Best value
Cheese Starters
We offer high-quality cheese starter cultures for industrial use in various forms:
Mesophilic homofermentative
Mesophilic Arom Type B
Thermophile Type C
Thermophile ST-Z
Probiotic Supplements
We offer high-quality cheese starter cultures in various forms, tailored to your needs for marketing and distribution. With more than 3,000 bacterial strains available, our cheese products are made with carefully balanced formulas for great consistency and taste. We provide premium ripening cultures including B. linens, Propionibacteria and DH yeast and starters for all types of cheese.
We provide various types of cheese starters:
Mesophilic homofermentative
Mesophilic Arom Type B (heterofermentative)
Thermophile Type C
Thermophile ST-Z (Pasta Filata)
Probiotic Supplements (Propionobacterium 50, Brevibacterium linens, Debaryomyces hansenii)
*Key Strains
Streptococcus Thermophilus
Lactobacillus Delbruekii subsp. Bulgaricus
Lactococcus Lactis subsp. Cremoris
Lactococcus Lactis subsp. Lactis
Lactococcus Lactis subsp. lactis biovar diacetylactis
Leuconostoc Mesenteroides subsp. mesenteroides
Lactobacillus Helveticus
Propionibacterium Freudenreichii subsp. freudenreichii
Brevibacterium Linens
DebaryoMyces Hanenii
Kluyveromyces Marxianus
All of our starter cultures are certified Gluten-Free, Soy-Free, Kosher and Halal.
From the cryotube to the starter, our total quality system is designed to guarantee your satisfaction. Our industrial division will provide you with:
Highly trained technical experts to guide you through the entire process
Research and quality team to ensure your product is made using the latest innovations and quality ingredients
Regulatory department to assist with legal matters and quality standards
Custom formulations and high-quality ferments for all your product needs
Manufacturer:
This product is manufactured in US FDA- and Health Canada-approved GMP production plants in US/Canada. It is 100% Vegetarian and Kosher.
Proviva Pharma probiotic products are produced by Biena Inc. located in Montreal, Canada, in the heart of St-Hyacinthe's Biotechnology Park. The area has been recognized globally by PwC and AURP as one of the top bio-clusters for food, veterinary and environmental-focused health innovations. The region currently holds more than 400 manufacturing companies in the areas of agribusiness and biotechnology and is ranked one of the best and most qualified locations in Canada for its industrial dynamism.
Biena Inc. facilities are GMP certified where the probiotic supplements are produced from strain vials to finished products in personalized dosage forms, to fit Proviva Pharma's needs. All of the Proviva Pharma probiotic products are manufactured under GMP conditions in a 55,000 sq.ft, state-of-the-art facility.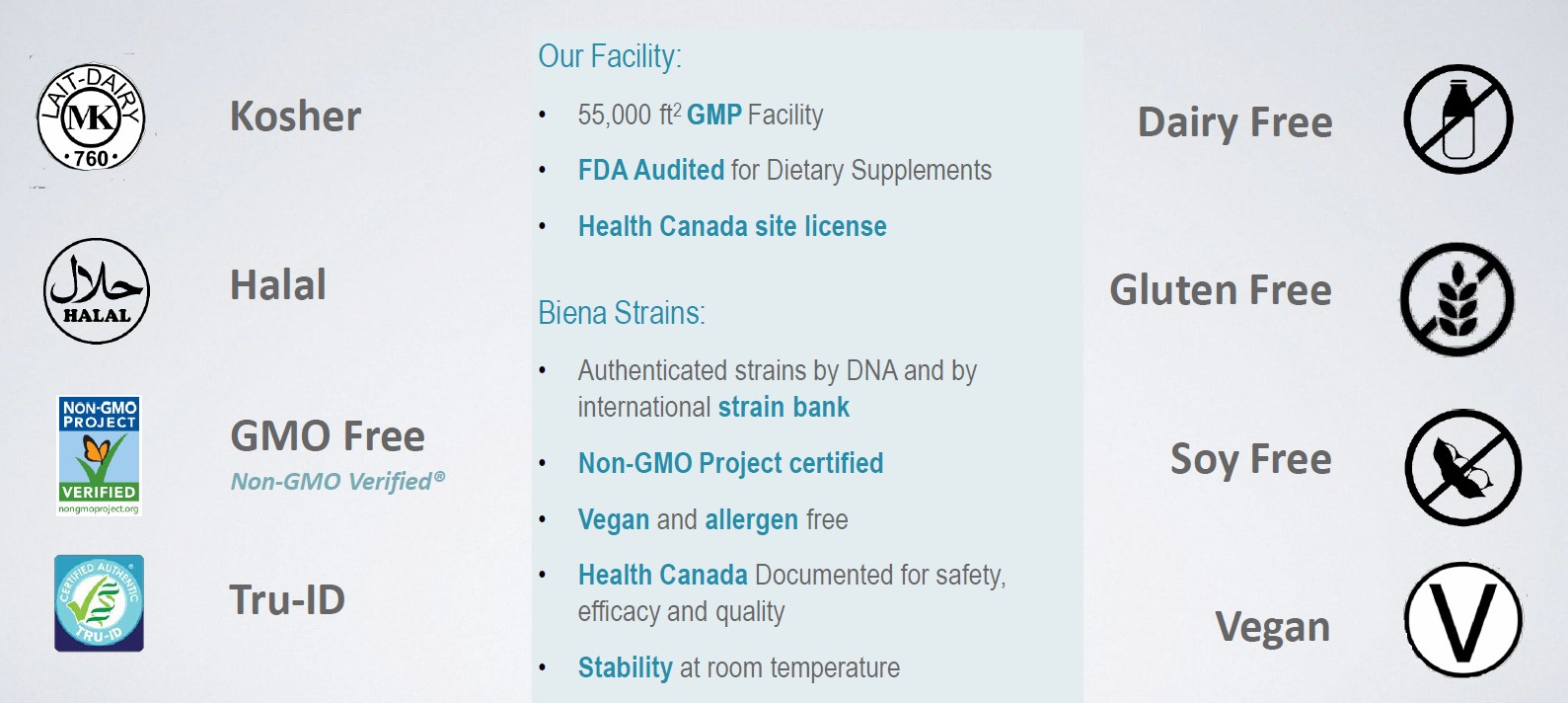 Quality Assurance:
HACCP & GMP total Quality System
Follow ISO 17025 International Regulation for Quality
Quality manual and SOP as per current Health Canada & FDA Regulations
Each lot's safety & quality validated by certified third-party labs, environmental and pest control
Stability study on your formulas
Regular audit for Health Canada & FDA CFR 21 part 111
Approved vendors of many major pharmacies and natural food stores throughout the world
Quality of Proviva Pharma/Biena Formulas:
Qualified in-house production, QA, QC and R&D team
Production of highly active and stable strains
Controlled environmental conditions
HEPA Filtration
Air pressured clean rooms
Modern ventilation system for low humidity (≤35%)
Strict handling and cleaning SOPs to avoid cross contamination
Complete traceability of lots to ingredient suppliers
Over 150 QA check points to ensure product quality
Modern facility tailor made for ensuring cell viability and stability from strain vial to finished product
Facility Certified
All Proviva Pharma/Biena products have received verification in compliance with the Non-GMO Project Standard. Thus, each product is produced without genetic engineering and remains void of GMO-derived ingredients.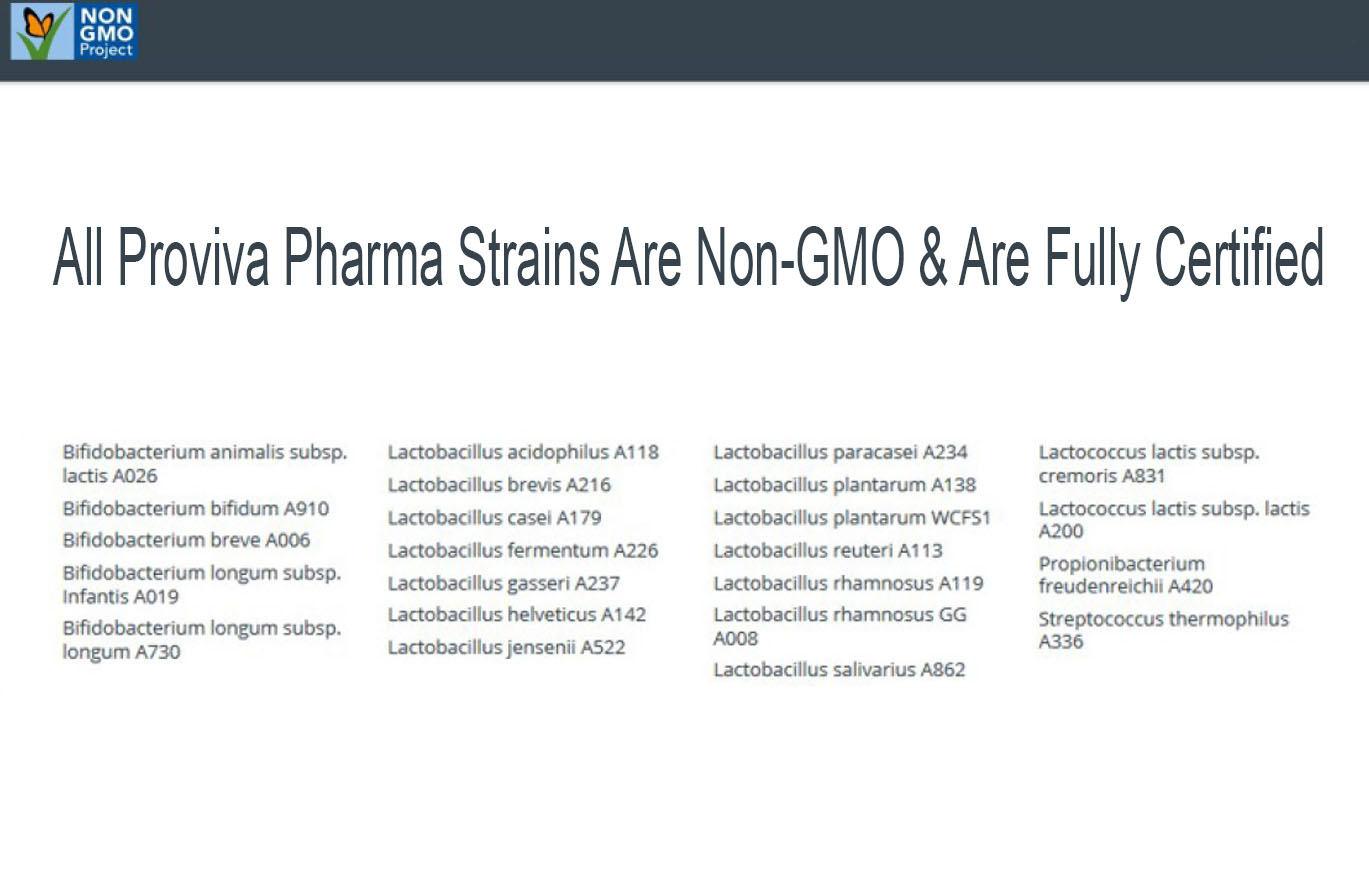 Proviva Pharma/Biena collaborative partners:

WITH PROVIVA PHARMA AND BIENA
All departments work together to support your probiotic needs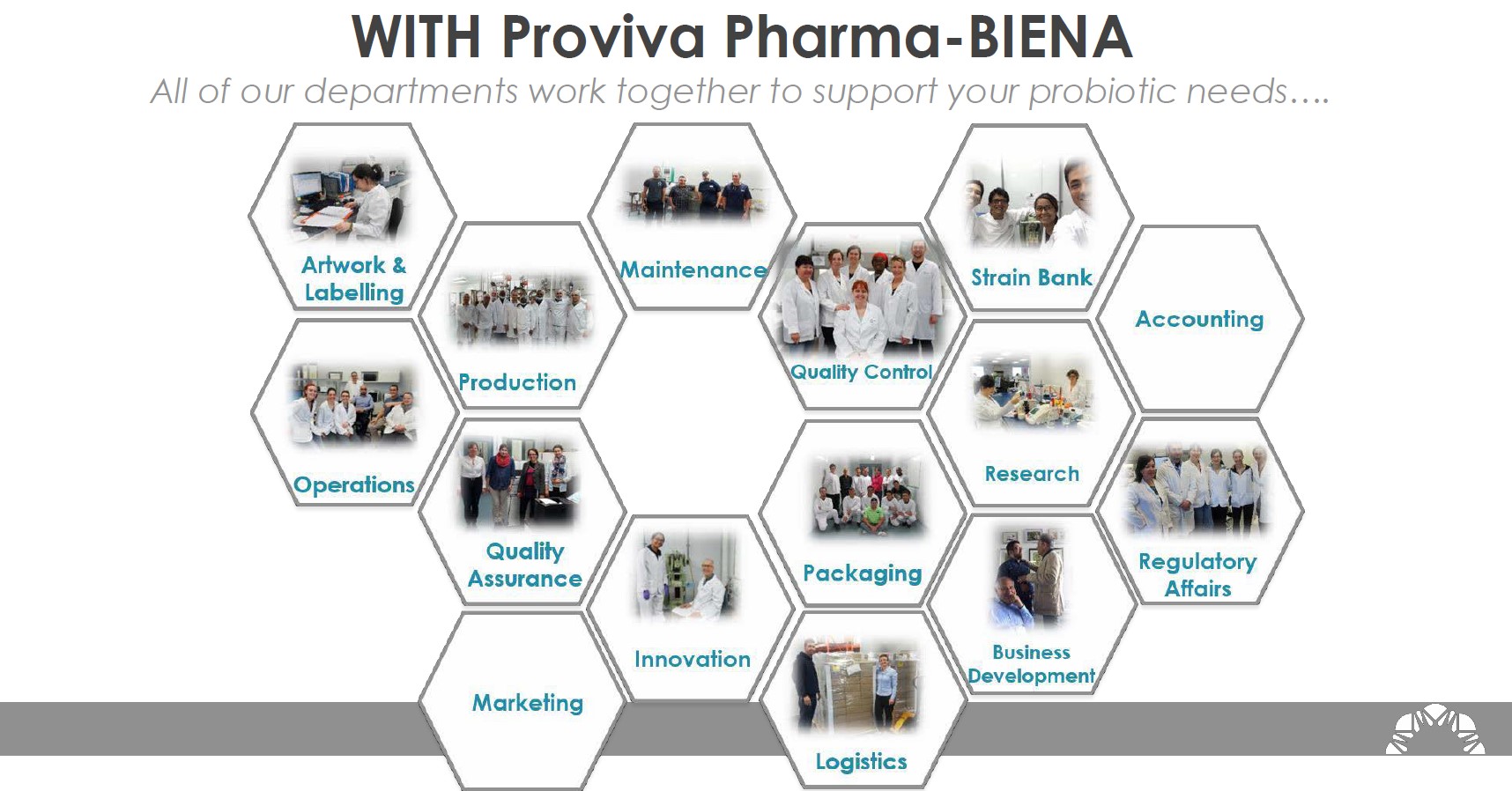 Specification:
Cheese Starters
| | |
| --- | --- |
| Type | Mesophilic Homofermentative, Mesophilic Heterofermentative Type B, Thermophile Type C, Thermophile ST-Z, Probiotic Supplements |