MicroJiva Animal Health Probiotic – Cattle
MicroJiva Animal Health Probiotic – Cattle (MJAH-C) is a dietary supplement for veterinary use that targets the overall health of cattle. Our formulation is a unique combination of pre- and probiotics formulated to help restore and maintain healthy intestinal balance of cows, thus supporting digestion and controlling infections.
Probiotic Strains & Ingredients:
Lactobacillus paracasei
Lactobacillus plantarum
Bifidobacterium bifidum
Saccharomyces cerevisiae
Starch
L-Leucine
*Key Benefits:
Improves feed efficiency
Promotes milk production
Reduces the frequency of diarrhea
Prevents and reduce infection
Fights pathogenic bacteria
MicroJiva Animal Health Probiotic – Cattle is offered by Proviva Pharma for veterinary use in order to take care of our precious animals. Our unique formula targets the overall health and performance of cattle through immune modulation and nutritional intake. Supplementing the animal's daily feed MJAH-C will provide 3 billion CFU per serving to benefit the animal's well-being.
*Key Benefits:
Improves feed efficiency
Promotes milk production
Reduces the frequency of diarrhea
Prevents and reduce infection
Fights pathogenic bacteria
Ingredients:
Main Biological Ingredients:
Lactobacillus paracasei A-PV 234
Lactobacillus plantarum

PV-WCFS1

Lactobacillus plantarum A- PV 139

Lactobacillus casei A PV 180

Propionibacterium A PV 420

Enterococcus faecium

Bifidobacterium longum subsp. infantis A PV 019

Saccharomyces cerevisiae.
Non-Biological Ingredients:
Corn Starch
Hypromellose
Fructooligosaccharides (Inulin)
L-Leucine
Silicon Dioxide
Gellan Gum
Titanium Dioxide
Water
Suggested Use:
Quantity: The package contains 30 packets for one month supply of daily feed. There are 3 billion CFU per serving.
Directions/Suggested Dose: The recommended dose is 3 billion CFU per kilogram (KG) of feed. Mix your animal feed or water before serving. Use daily for general wellbeing. Adjust dosage and frequency as needed, or as recommended by your veterinarian.
Instructions for Use: The product is stable at controlled room temperature and does not require refrigeration. However, it is recommended to store the product in a refrigerated or cool, dry place below 25°C.
Warnings: Consult your veterinary prior to administering this product, especially if the animal has allergies, is pregnant, takes other medication or is otherwise under medical supervision. If the animal experiences any unexpected but serious side effects, cease usage and notify your veterinary immediately. For animal use only. Keep out of reach of children. Do not administer if safety seal is broken or missing.
*Disclaimer: These statements have not been evaluated by the Food and Drug Administration. This product is not intended to diagnose, treat, cure or prevent any disease.
This product is Non-GMO, Kosher, Halal and Allergen Free. Suitable for vegetarian, dairy free, gluten free, soy free, or vegan diets. 100% natural ingredients, free from artificial colorings, flavorings and additives.
Manufacturer:
This product is manufactured in US FDA- and Health Canada-approved GMP production plants in US/Canada. It is 100% Vegetarian and Kosher.
Proviva Pharma probiotic products are produced by Biena Inc. located in Montreal, Canada, in the heart of St-Hyacinthe's Biotechnology Park. The area has been recognized globally by PwC and AURP as one of the top bio-clusters for food, veterinary and environmental-focused health innovations. The region currently holds more than 400 manufacturing companies in the areas of agribusiness and biotechnology and is ranked one of the best and most qualified locations in Canada for its industrial dynamism.
Biena Inc. facilities are GMP certified where the probiotic supplements are produced from strain vials to finished products in personalized dosage forms, to fit Proviva Pharma's needs. All of the Proviva Pharma probiotic products are manufactured under GMP conditions in a 55,000 sq.ft, state-of-the-art facility.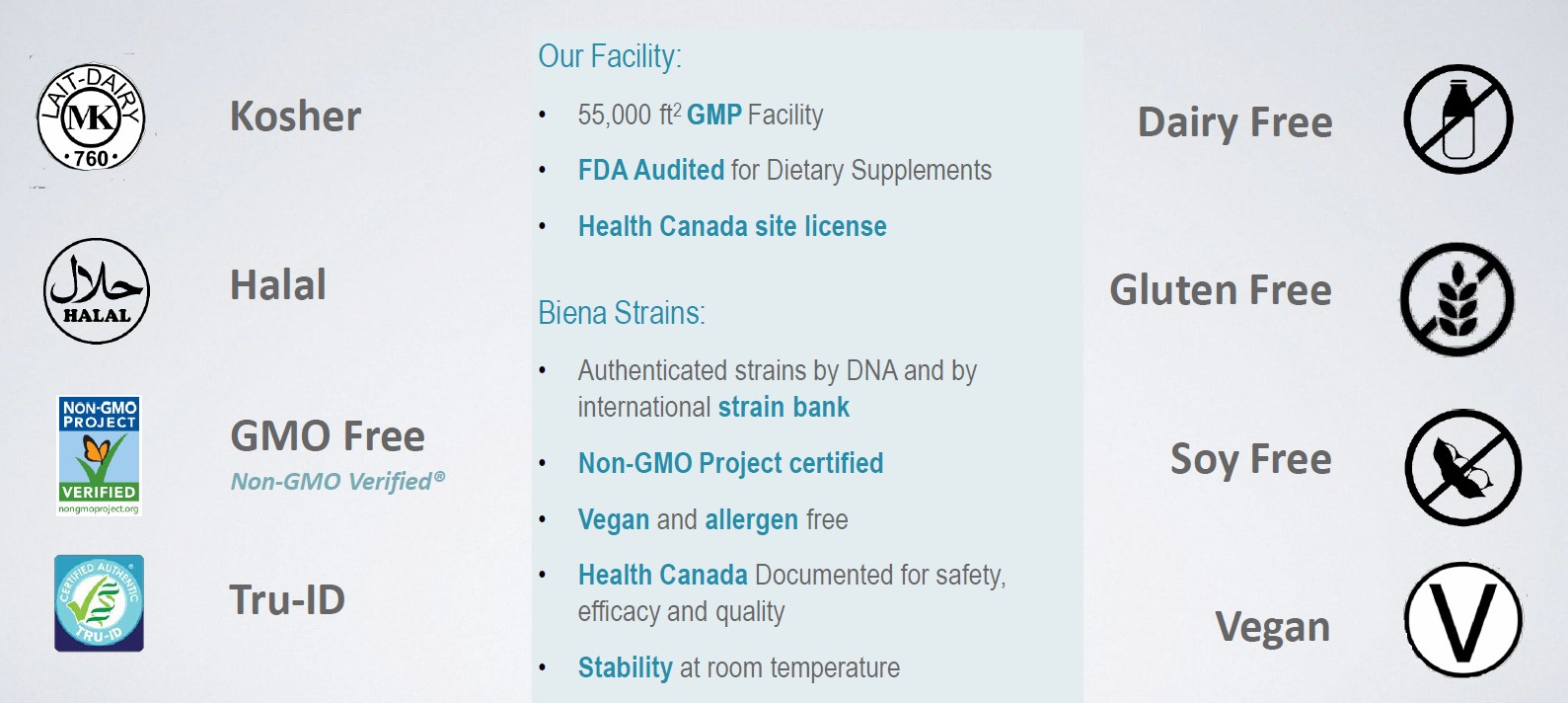 Quality Assurance:
HACCP & GMP total Quality System
Follow ISO 17025 International Regulation for Quality
Quality manual and SOP as per current Health Canada & FDA Regulations
Each lot's safety & quality validated by certified third-party labs, environmental and pest control
Stability study on your formulas
Regular audit for Health Canada & FDA CFR 21 part 111
Approved vendors of many major pharmacies and natural food stores throughout the world
Quality of Proviva Pharma/Biena Formulas:
Qualified in-house production, QA, QC and R&D team
Production of highly active and stable strains
Controlled environmental conditions
HEPA Filtration
Air pressured clean rooms
Modern ventilation system for low humidity (≤35%)
Strict handling and cleaning SOPs to avoid cross contamination
Complete traceability of lots to ingredient suppliers
Over 150 QA check points to ensure product quality
Modern facility tailor made for ensuring cell viability and stability from strain vial to finished product
Facility Certified
All Proviva Pharma/Biena products have received verification in compliance with the Non-GMO Project Standard. Thus, each product is produced without genetic engineering and remains void of GMO-derived ingredients.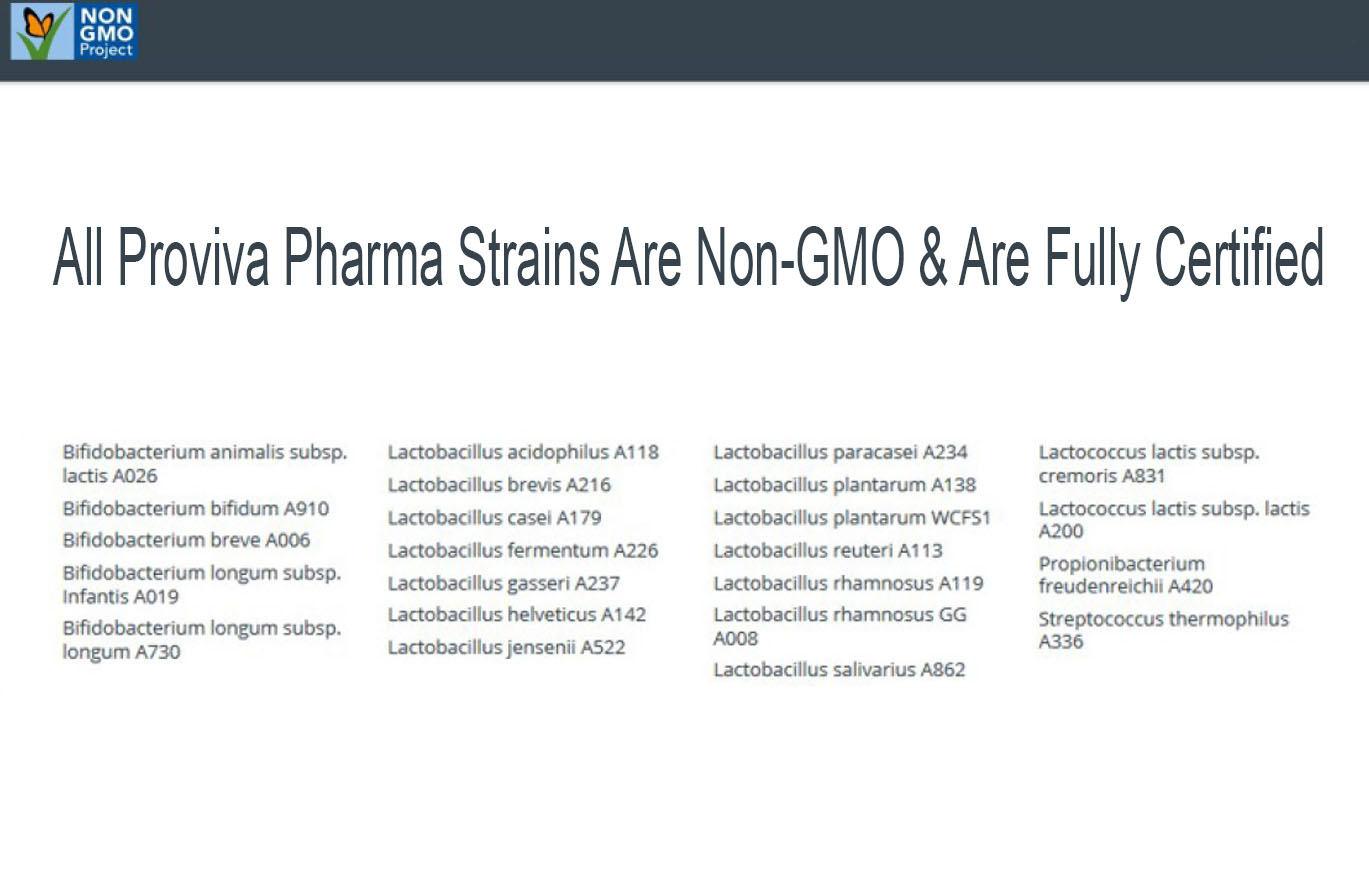 Proviva Pharma/Biena collaborative partners:

WITH PROVIVA PHARMA AND BIENA
All departments work together to support your probiotic needs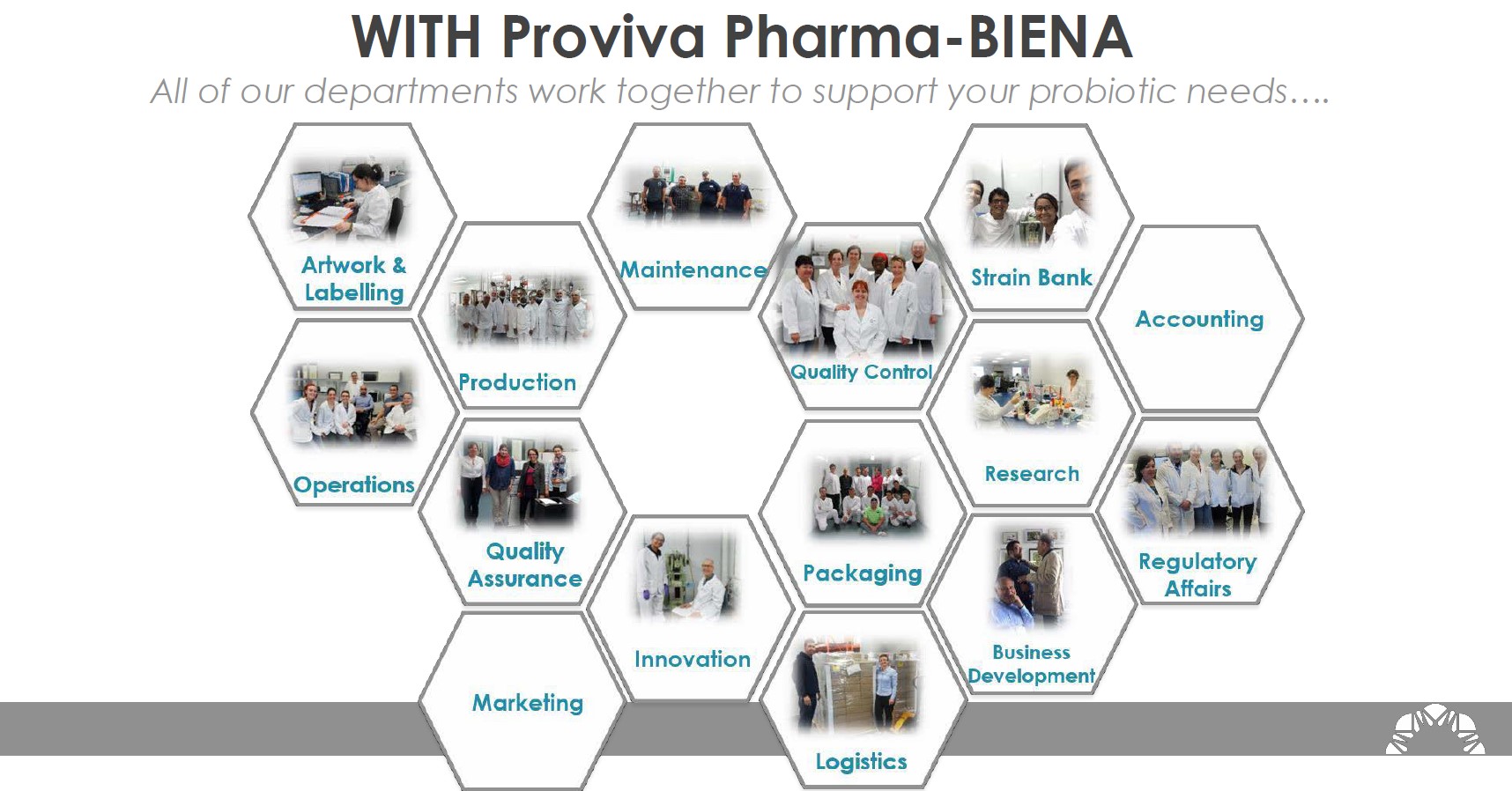 Additional Downloadable Info